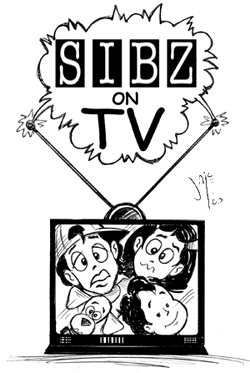 Jim and Pat McGreal, creators of the comic strip SIBZ, appeared on The Paul Morgan Show throughout January. SIBZ is published in local Chicago newspapers.
The show, taped in late December was seen on the AT&T Broadband Network (or AT&T Comcast) for audiences in Chicago, and many outlying suburbs including Oak Lawn, Evergreen Park, Worth, Romeoville and Joilet. It can also be seen in St. Louis, Minneapolis, Seattle, Cleveland and West Palm Beach.
Topics included the making of the SIBZ comic strip, their award-winning editorial cartoons and their early work.
SIBZ showcases the antics of three siblings whose imagination leads to mischief and mayhem.
Jim McGreal is a Chicago (Beverly Hills/Morgan Park) resident. Owner of JMC Studios, he is an illustrator and web site creator. Pat McGreal now lives in Los Angeles and has worked for Rosie O'Donnell, the Disney Channel and was a contributing writer for both David Letterman and Craig Kilborn.